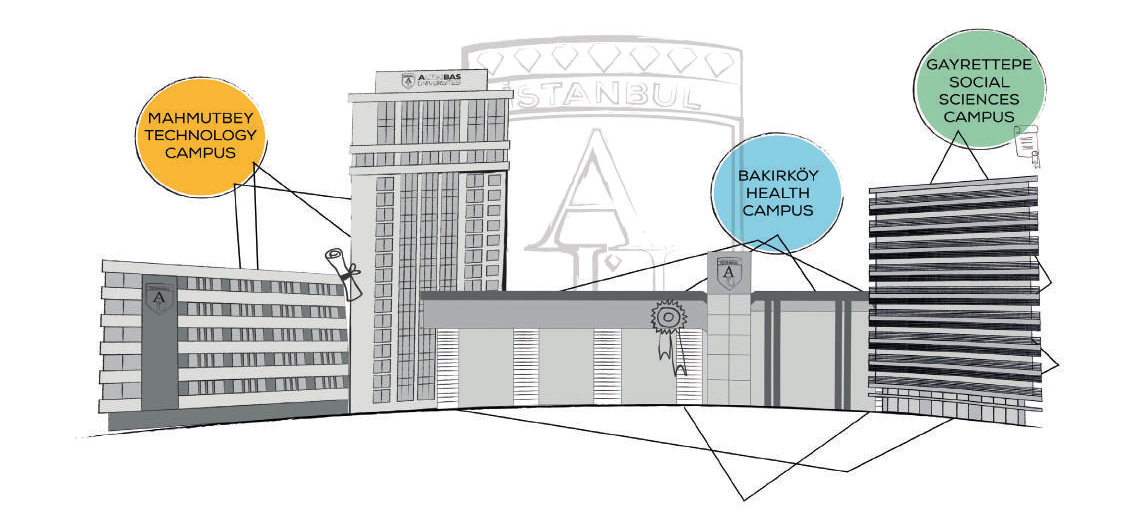 Mahmutbey Campus
It is not only designed for educational life, but also for hosting activities oriented to enrich social and cultural lives of students. In this respect, the campus has many facilities where international conferences, talks with professionals, concerts, festivals, exhibitions etc. can be held.
Library: The main library of Altınbaş has a rich collection of books and periodicals. Altınbaş provides the access to the worldwide databases. It is moving rapidly in order to become a modern library supporting scientific and intellectual activities, and using the latest technology while providing service at international standards.
Health Center: Health center of Altınbaş serves during Office hours with a doctor, nurses and a fully equipped clinic at Mahmutbey campus.
Psychology Research and Application Center: The center provides psychological counseling service to adults, couples, children, adolescents and families. It also carries out training activities, clinical measurement and evaluation, group therapies, seminars as well as scientific research activities.
Sports Center and Stadium: Altınbaş offers many unique and exciting opportunities for students to participate in competitive team sports and stay physically fit at state-of-the-art, world-class training center.
Address: Mahmutbey Mahallesi, Dilmenler Caddesi Mahmutbey Yerleşkesi No:26, 34218 Bağcılar/İstanbul
Bakırköy Campus
Bakırköy Campus is a home to Turkey's largest health sciences campus among the foundation universities. It has the School of Medicine, Pharmacy, Dentistry and Dentistry Hospital. It is located in a very central point of Bakırköy in which is a very lively city center with many shops, shopping malls and restaurant. There are plenty of private housing options nearby the campus.We can assist you with a network of students whou would like to share apartments with you.
Address: Kartaltepe Mah. İncirli cad. No:11 Bakırköy / İstanbul
Gayrettepe Campus
In the city center, Gayrettepe Campus is home to the School of Management, Fine Arts, Law, Applied Sciences and Graduate School of Social Sciences.
This campus is located in the heart of Istanbul where you will have an easy access to social and cultural activities, to the newest restaurants in town with Turkish and World cuisine by walk. Many multinational companies' headquartes are located in Gayrettepe. When you take a glimps in the sky, you can dream a future in the skyscrapers that will surround you. Don't forget to take a short walk with your friends to Besiktas where you can enjoy the dazzling view of the Bosphorus.
Due to the central location of our campus in Gayrettepe, there are plenty of private housing options nearby the campus. We can assist you with a network of students who would like to share apartments with you.
Address: Büyükdere caddesi, No: 147 Esentepe / İstanbul