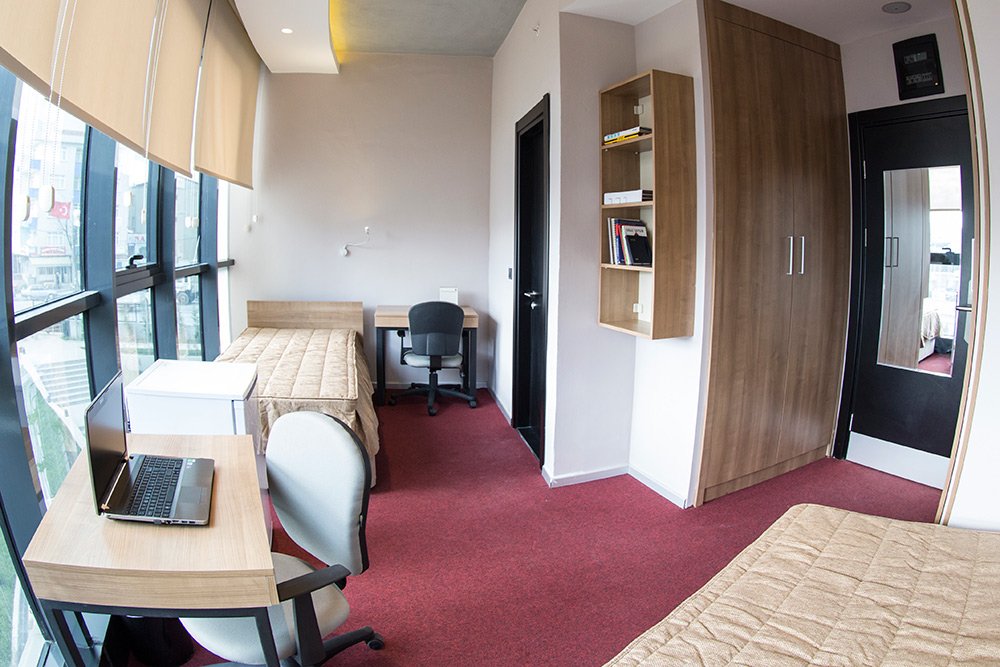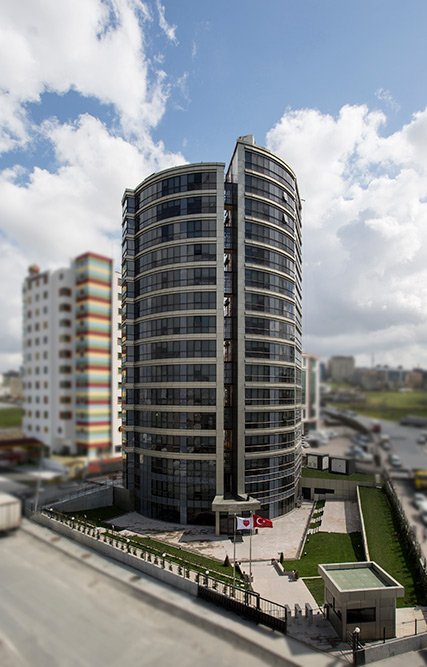 Accommodation is available for Altinbas University students in a number of dorms. These dorms are located in the vicinity of the campus and are designed to provide a clean, comfortable, secure and civilized environment for the students. Accommodation fees are as follows;
| | |
| --- | --- |
| Room Types | Study + Accommodation |
| Single | Tuition fee + 5850 $ |
| Quadruple | Tuition fee + 3600 $ |

Housing rates include: Basic utilities (Gas/electricity, water & garbage etc.), internet access, general maintenance and gym membership.
Room charges and meal plans are for 9 months, during the study period at the university.
In order to make a room reservation, click for the accommodation form. Due to limited space applications will be processed on a first-come first-served basis. Students living in distance in the city and students with handicap will be given priority in placing in the guesthouse.
Please note that the dorm is located in the Mahmutbey Campus of the University. There is shuttle service to Bakirkoy Campus and it costs 600 TL (app. 200 $) for 9 months of unlimited shuttle use.
We can also help you in finding private accommodation (house-sharing) if you do not prefer to stay at the dorm. You can also find an appropriate flat and attain the contact information of the real-estate agents from the following link;
Campuses:
Altınbas University have 3 campuses which are located in Mahmutbey, Bakırköy and Gayrettepe.
Mahmutbey Campus
It is not only designed for educational life, but also for hosting activities oriented to enrich social and cultural lives of students. In this respect, the campus has many facilities where international conferences, talks with professionals, concerts, festivals, exhibitions etc. can be held.
Guest house: It is located in Mahmutbey, and 2 minutes walking distance from the campus.
Library: The main library of Altınbaş has a rich collection of books and periodicals. Altınbaş provides the access to the worldwide databases. It is moving rapidly in order to become a modern library supporting scientific and intellectual activities, and using the latest technology while providing service at international standards.
Health Center: Health center of Altınbaş serves during Office hours with a doctor, nurses and a fully equipped clinic at Mahmutbey campus.
Psychology Research and Application Center: The center provides psychological counseling service to adults, couples, children, adolescents and families. It also carries out training activities, clinical measurement and evaluation, group therapies, seminars as well as scientific research activities.
Sports Center and Stadium: Altınbaş offers many unique and exciting opportunities for students to participate in competitive team sports and stay physically fit at state-of-the-art, world-class training center.
Bakırköy Campus
Bakırköy Campus is a home to Turkey's largest health sciences campus among the foundation universities. It has the School of Medicine, Pharmacy, Dentistry and Dentistry Hospital. It is located in a very central point of Bakırköy in which is a very lively city center with many shops, shopping malls and restaurant.
Gayrettepe Campus
In the city center, Gayrettepe Campus is home to the School of Management, Fine Arts, Law, Applied Sciences and Graduate School of Social Sciences.
This campus is located in the heart of Istanbul where you will have an easy access to social and cultural activities, to the newest restaurants in town with Turkish and World cuisine by walk. Many multinational companies' headquartes are located in Gayrettepe. When you take a glimps in the sky, you will can dream a future in the skyscrapers that will surround you. Don't forget to take a short walk with your friends to Besiktas where you can enjoy the dazzling view of the Bosphorus.
Due to the central location of our campus in Gayrettepe, there are plenty of private housing options nearby the campus. We can assist you with a network of students who would like to share apartments with you. Your housing will be close to world's finest and largest shopping malls.